Vintage Silver Brooch Rhinestones Menorah Pin Estate Antique Hanukkah Christmas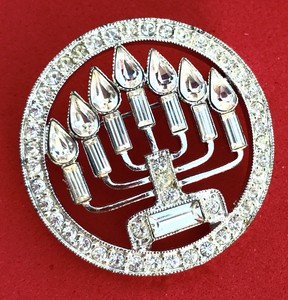 ---
I am selling this really pretty vintage brooch. It is silver metal although I'm almost certain not real Sterling silver, although I have no way of really knowing. So it may be real Sterling!! If so this would be a steal!! It is gorgeous and the clear Rhinestones are literally gorgeous and super sparkly and my daughter whose 6 helped me take pictures of this and she kept saying 'this sparkles like big diamonds' and she is right. It is so so super sparkly.
This was my Grandma's, well technically my husband's grandmother but I loved her like my own as well. I was given lots of jewelry and purses and fun stuff once she passed. One ring was thrown into this ziplock bag with costume jewelry and my mother-n-law said 'give all this junk jewelry to goodwill- or keep it whichever you want, I don't want it though' and one of the rings in there was real platinum and diamonds with a 1930's mine cut diamond and the ring appraised for $1,200!! So I'm glad I didn't listen to her. And of course once I told her she took it back - and said 'when I die I'll give it to you again' ha ha. Geez. I should have never told her. Ha ha.
anyway I was also given the entire jewelry box with Native American Sterling silver and turquoise jewelry as well as lots of Jewish brooches and antique and vintage earrings and pins. And this was one of those really gorgeous and PERFECT CONDITION brooches. This is the really unusual thing too - I saw 2 of these that I thought were identical and I thought for a second they may be earrings which is crazy because they are huge for earrings but they are identical- or so I thought. But when I went to photograph them in the bright sunlight outside I noticed that even though the rhinestones are perfectly identical and the layout and designs is also identical the base metal for the entire brooch for one of them is gold metal and the main metal for the other one is silver. So if you really like the looks of this brooch and this layout and how this menorah looks with these rhinestones but you wear more gold instead of silver more often then just check out the other listing because we have this exact same brooch in gold as well.
I did a little research and found this brooch for sale on another website for around $68 and it said it's from the 1930's. I don't know if they were just guessing or if they really knew that. But I think that most of the jewelry she had is from the 30's through the 50's mostly. My own wedding rings were from her and they are 1930's mine cut antique white gold rings. So the bulk of all of her jewelry collection is from that time so I wouldn't doubt that this is from around then too.
I wanted to keep this but I need to raise money so. I hope it finds a good home out there.
It appears to be have several rhinestones or faceted gemstones or a synthetic gemstones. They are white or clear stones. They are really really pretty. The whole thing is just gorgeous. This would make a great gift for someone or a great addition to ones own jewelry collection. If it is a gift, just let us know and we can wrap it up with gorgeous gift wrapping - perfect and ready to go for you.
Info from another listing:
Rare vintage clear rhinestone menorah brooch - gorgeous art deco 1930s 1940s silver metal & rhinestone menorah pin - Jewish Hanukkah Judaica
Tags
Menorah
Art Deco era
Vintage brooches
Antique brooches
Vintage jewelry
Hanukkah
Vintage Christmas
1930's
What others are saying
The moment I found this deeply beautiful art deco era vintage menorah brooch I stopped square in my tracks. One comes across vintage Christmas
Rare, beautiful vintage 1930s/1940s era clear rhinestone menorah brooch. from Chronically Vintage on Etsy. #Hanukkah #shabbat #Jewish #vintage #
... Menorah rhinestones and silver tone metal with the 7 branch candelabra brooch. A beautiful demure quality made piece in very fine condition, all ...
Items similar to Menorah Brooch 1950s Rhinestone Beauty Great Gift Idea Vintage Religious Fashion Jewelry Seven Branch Hanukkah Jerusalem Brooch Pin
What others are saying
A very nice 7 candle Menorah rhinestone brooch In nice vintage condition, clasp in good working condition
Menorah Brooch 1950s Rhinestone Beauty Great Gift Idea Vintage Religious Fashion Jewelry Seven Branch Hanukkah Jerusalem Brooch Pin
If you have any questions, do not hesitate to ask.
Thank you for looking at my listing.
SHIPPING:
We ship out within 24 hours of receiving a payment. We can combine shipping to provide you with cheaper shipping for the purchase of multiple items if you are interested, but PLEASE NOTE that we can ONLY give you a combined shipping discount if all items are paid for all at once in a SINGLE PAYMENT!
RETURNS:
If you aren't totally and completely thrilled with you item for any reason, we accept returns for full refunds for any reason. So bid and buy with confidence.

We pride ourselves on striving to make sure you have a happy and pleasant buying experience. All of our items usually come with a free gift as well- just to show our appreciation to you as a buyer.
Thank you for looking.
Brooch
From Wikipedia, the free encyclopedia
A brooch /ˈbroʊtʃ/ is a decorative jewellery item designed to be attached to garments, often to hold them closed. It is usually made of metal, often silver or gold but sometimes bronze or some other material. Brooches are frequently decorated with enamel or with gemstones and may be solely for ornament (as in the stomacher) or sometimes serve a practical function as a fastening, perhaps for a cloak.
The earliest known brooches are from the Bronze Age. As fashions in brooches changed rather quickly, they are important chronological indicators. Many sorts of European brooches found in archaeology are usually referred to by the Latin term fibula.
Contents
• 1 Fibula
• 2 Celtic brooches
• 3 Hair and portrait brooches
• 4 Gallery
• 5 Notes
• 6 References
• 7 External links
Fibula
Main article: Fibula (brooch)
Braganza Brooch, Hellenistic art, 250-200 BC, British Museum
The fibula (plural fibulae) is an ornamental clasp used by Romans, Greeks, Germanic peoples and also by Celts and migratory tribes in Europe from the Early Bronze Age. They may have replaced fibulae made of more perishable Neolithic materials, such as bone to as late as 800 AD.[citation needed] Fibulae are useful type-objects: carefully catalogued local typologies, dating and distribution of fibulae can help date finds where neither numismatic nor ceramic materials provide a secure date. Fibulae were shaped somewhat like a large safety pin and were used to hold clothing together. They came in many varieties and held prominent significance for the identity of the wearer, indicating ethnicity (until local costume became Romanized) and class. Elaborately designed fibulae were an important part of Late Antique dress, and simpler ones were part of Roman military equipment.
The same types of fibulae can often be found on either side of the Roman limites, both among "Roman" and "barbarian" populations. The cultural interplay of elite objects designed to show status can be quite complex. For example, Lawrence Nees, Early Medieval Art[1] notes fibulae depicted in ivory diptychs of Stilicho and his entourage:
Disk pin with woman giving birth, flanked by antelopes from Luristan bronze.
The type of fibula worn by Stilicho and his son, and by Turcius Secundus, occurs also among metal works of art commonly termed barbarian, as new Germanic figures usurped the symbols of imperial authority. It is likely that this type originated among Celtic groups and came to be adopted as an exotic fashion by Roman aristocrats, becoming 'naturalized' as an important Roman emblem, and then exported.
Ancient fibulae are prized items for collectors since they are well preserved in many cases and are not difficult to obtain; divorced from their cultural context, they still present a variety of shapes and decoration.
Celtic brooches
A hair brooch from the 19th century, in the collection of The Children's Museum of Indianapolis
A distinct tradition of penannular brooches and the related pseudo-penannular types developed in Early Medieval Ireland and Scotland, producing some of the most elaborately decorated brooches ever made, including the Tara Brooch.
Hair and portrait brooches
From the eighteenth century through the Victorian era it was fashionable to incorporate hair and portraiture into a brooch.[2] The practice began as an expression of mourning, then expanded to keepsakes of loved ones who were living.[2] Human hair was encased within the brooch or braided and woven into a band to which clasps were affixed.[2] It was not uncommon for miniature brooch portraits to incorporate ground human hair as pigment.
Two sided swivel brooches would display a portrait on one side and a lock of hair on the other; the latter could be crafted with semiprecious stones to resemble a bouquet.
The menorah (/məˈnɔːrə/; Hebrew: מְנוֹרָה‬ [mənoːˈɾaː]) is described in the Bible as the seven-lamp (six branches) ancient Hebrew lampstand made of pure gold and used in the portable sanctuary set up by Moses in the wilderness and later in the Temple in Jerusalem.
Fresh olive oil of the purest quality was burned daily to light its lamps.
The menorah has been a symbol of Judaism since ancient times and is the emblem on the coat of arms of the modern state of Israel. Judaism
The menorah symbolized the ideal of universal enlightenment.
The idea that the Menorah symbolizes wisdom is noted in the Talmud, for example, in the following: "Rabbi Isaac said: He who desires to become wise should incline to the south [when praying].
The symbol [by which to remember this] is that… the Menorah was on the southern side [of the Temple]."
The seven lamps allude to the branches of human knowledge, represented by the six lamps inclined inwards towards, and symbolically guided by, the light of God represented by the central lamp. The menorah also symbolizes the creation in seven days, with the center light representing the Sabbath.
Christianity
Reverse of 1590 coin in honor of Urban VII with menorah and the legend SIC•LUCEAT•LUX•VESTRA (Let your light so shine - Matt. 5:16) The New Testament book of Revelation refers to seven golden lampstands, representing the seven churches of Asia to which the revelation was sent (Ephesus, Smyrna, Pergamon, Thyatira, Sardis, Philadelphia and Laodicea), with 'one like a Son of Man' in their midst.
According to Clement of Alexandria and Philo Judaeus, the seven lamps of the golden menorah represented the seven classical planets in this order: the Moon, Mercury, Venus, the Sun, Mars, Jupiter, and Saturn.
It is also said to symbolize the burning bush as seen by Moses on Mount Horeb (Exodus 3).
Kevin Conner has noted of the original menorah, described in Exodus 25, that each of the six tributary branches coming out of the main shaft was decorated with three sets of "cups... shaped like almond blossoms... a bulb and a flower..." (Exodus 25:33, NASB).
This would create three sets of three units on each branch, a total of nine units per branch. The main shaft, however, had four sets of blossoms, bulbs and flowers, making a total of twelve units on the shaft (Exodus 25:34). This would create a total of 66 units, which Conner claims is a picture of the Protestant canon of scripture (containing 66 books). Moreover, Conner notes that the total decorative units on the shaft and three branches equate to 39 (the number of Old Testament books within Protestant versions of the Bible); and the units on the remaining three branches come to 27 (the number of New Testament books).
Conner connects this to Bible passages that speak of God's word as a light or lamp (e.g. Psalms 119:105; Psalms 119:130; cf. Proverbs 6:23).
The Menorah is also a symbol closely associated with the Jewish holiday of Hanukkah (also spelled Chanukah). According to the Talmud, after the Seleucid desecration of the Jewish Temple in Jerusalem, there was only enough sealed (and therefore not desecrated) consecrated olive oil left to fuel the eternal flame in the Temple for one day. Miraculously, the oil burned for eight days, which was enough time to make new pure oil. The Talmud (Menahot 28b) states that it is prohibited to use a seven-lamp menorah outside of the Temple. The Hanukkah menorah therefore has eight main branches, plus the raised ninth lamp set apart as the shamash (servant) light which is used to kindle the other lights. This type of menorah is called a hanukiah in Modern Hebrew.
Synagogues have a continually lit lamp or light in front of the Ark, where the Torah scroll is kept, called the ner tamid (eternal light). This lamp represents the continually lit ner Elohim of the menorah used in Temple times.
In addition, many synagogues display either a Menorah or an artistic representation of a menorah. A menorah appears in the coat of arms of the State of Israel, based on the depiction of the menorah on the Arch of Titus. Sometimes when teaching learners of the Hebrew language, a chart shaped like the seven-lamp menorah is used to help students remember the role of the binyanim of the Hebrew verb.
Temple Institute reconstruction
The Temple Institute has created a life-sized menorah, designed by goldsmith Chaim Odem, intended for use in a future Third Temple. The Jerusalem Post describes the menorah as made "according to excruciatingly exacting Biblical specifications and prepared to be pressed into service immediately should the need arise."
The menorah is made of one talent (interpreted as 45 kg) of 24 karat pure gold, hammered out of a single block of solid gold, with decorations based on the depiction of the original in the Arch of Titus and the Temple Institute's interpretation of the relevant religious texts. The menorah features prominently in the 2013 crypto-thriller The Sword of Moses by Dominic Selwood. It is also featured in the archaeology novels Crusader Gold, by David Gibbins, and The Last Secret of the Temple, by Paul Sussman. A menorah can be seen in the movie X-Men: First Class, when Charles Xavier reads Erik Lehnsherr's mind as he remembers his mom.