SHEMA YISRAEL NECKLACE WITH STAR OF MAGEN DAVID Shma Israel Jewish Prayer gift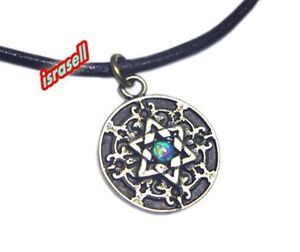 ---
| | |
| --- | --- |
| Star of Magen David (Shield of David) Necklace with Blessing | |
In the center of the Star of David there is opal gemstone. Opal is a stone that will soothe erratic emotions and enhance personal courage. On the back of the pendant is written in Hebrew "Yevarecheha Adonai ve Ishmereha. Amen, Ken Yehi Ratzon" which means "May God bless You and Guard You. Amen, May It Be So". The pendant will keep you safe wherever you go. Pendant is made from brass. The cord is made from genuine leather. Length: 45cm/17.5inch Diameter of pendant: 1.7cm/0.75inch Handcrafted in Israel, Hebrew text is hand engraved. Condition: new

Star of David - The structure of the star, with two overlapping triangles, represents the relationship between God and the Jewish people. The star that points up symbolizes God and the star that points down represents us here on earth. There are twelve sides on the triangle, representing the Twelve Tribes.
Payment Options: Payment must be received within 7 days of the auction end.We accept PayPalPayPal supports Visa, MasterCard, Discover & American Express credit cards.All bidders will receive appropriate feedback.The final price is the auction price, plus shipping & handling fee.All items will be shipped within 2-3 business days of confirmed payment.
Shipping, Handling & Insurance:

We ship worldwide !!Shipping cost INCLUDES INSURANCE If you need a faster shipping method after the auction has been completed, we encourage you to call us with your order so it can be processed as quickly as possible.The shipping & handling fee includes packing, warehouse and distribution costs, not postage only.
Refund Policy: Item must be returned by registered insured mail and packed well, like we packed it.
Check out our other items!